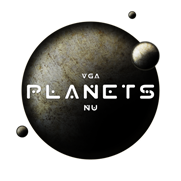 Game Setup Options
---
General Information
—> Game Setup Options
---
Planets.nu differs in many ways from the original THOST version that was written in the 90s. Joshua has tried to keep the changes utilitarian and cosmetic in the VGA Planets format. In Classic games, it is rare that anything major, or anything that would impact game balance, has been changed.
Early in Nu, however, variants were introduced. The first and still the most flexible venue that was created was the Campaign setting, which permits players to customize their race abilities within certain very strict limits. Since then, other variations have been created, and now that some custom (player-created) games can become public, these options can be put together in a wide variety of new and interesting ways.
Here's a list of the basic styles of game that are regularly offered:
Blitz - This type of game has very few parameters that may be set. For information on creating this type of game, please look here.
Classic - As close to the original VGA-Planets game from Tim Wisseman as we can make it. This type of game uses the Priority Build Queue system. The known differences between the latest version of THOST and a Classic game at Planets.nu are described here. It should be noted that, even with the numerous changes between THOST and Classic Planets.nu, numerous easily fixed bugs and logical inconsistencies have been left in.
Standard - This version of Planets is the default for most games, including system-generated, Championship, and long-format League. On January 1st 2021, Standard games are receiving some major changes, most notably the implementation of the new Planetary Production Queue; please, be patient as we develop the documentation for this. In the meantime, the Nu Administration has released a brief outline of the new Standard updates: Click here to learn more.
Campaign - Permits Campaign race abilities and uses Stellar Cartography, the Production Queue, and Fight Or Fail.
Beginner - Introduced in many formats, but usually Standard. Beginner games prohibit high-ranked players so as to give new players an equal chance at winning.
Mentors and Midshipmen - A variant of Standard which permits a number new players to be pitted against either a single experienced player (or the computer player, Hiatus) over a fixed time. Fight or Fail is not active here. No Tenacity penalty is incurred for dropping from one of these games. Mentor vs. Midshipmen games use the Production Queue.
Melee - a variant of Standard or Campaign which pits 30 commanders against each other on a standard-sized map. These can be brutal.
Teams of 2 (or 3) - Team games usually open with allied players neighboring one another. Teams can choose their races and players in advance for maximum advantage. These exist in Standard and Campaign format.
Custom - These are player-designed games, and can have almost any configuration.
Here's a list of a few of the individual features that can be chosen in a Custom game:
It is possible to examine the detailed settings of a game. This can be done by selecting the game, either from a player's "My Games" or "History" list or from the "Game List". Under the bar graph showing the minerals, there is a "SETTINGS..." link. Selecting that link will display the detailed settings for the game. Most of these settings are described in the Setup Customization page.