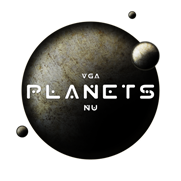 Contact Form
---
Introduction
—>
How The Website Works
—> Contact
---
On the right toolbar is a CONTACT button ( http://play.planets.nu/#/contact ). That button can be used to initiate communication with the Site Administrators.
The CONTACT page is a simple form permitting direct communication with the Planets.nu Administration, Development and Customer Support team. If a player has any problems with their account, or if serious bugs or glitches are noticed either in-game or on the website, using this form will bring the matter to their attention.
Please fill in all blanks, and include all information that is pertinent to the issue under discussion. For example, if you are reporting a problem in one of your games, you should be certain to include your username, the game number, and any further details that can help track down the problem.
Please be polite. They're decent hardworking people, and they'll do their best to help.