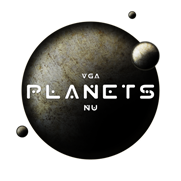 Giving Ships Away
---
Starships
—> Giving Ships Away
---
When working with other players, it is sometimes useful to give or trade starships. To give a starship away to another race, one method is to orbit a planet with one of their starbases and either match Friendly Codes or beam down all remaining fuel. The starbase then sets the Primary Orders to Force a Surrender . That player takes control of the starship during the next Host run.
It is also possible to use the GSx Friendly Code to give a starship away. This Friendly Code will give the starship to the player specified by x (for example, GS5 will give to player number 5) if that player has a starship in the same spot with at least one clan on board. It should be noted that the player number may be either a digit (1-9) or a character (A-Z for players 10-35). The GSx Friendly Codes are processed in starship ID order. If the Must Match GSx feature was enabled at game creation time, the receiving ship (the one with the clan on it) must have the same, case sensitive, Friendly Code.
From within a game, the simplest way to determine the player number is to look at the Primary Enemy list.
When ownership of a starship has been successfully transferred, the following will happen:
The entire crew will change allegiance to the new owner. This will not replenish lost crew.
The mission will be reset to Exploration .
Starships Forced to Surrender will have their waypoints reset.
Nothing else about the starship will be changed.
Any mission-related action that has been taken with the starship prior to changing owner will stay in effect until the end of the turn, or until something else causes it to end.