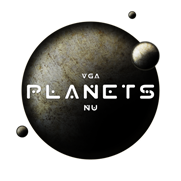 Fear
---
Starships
—>
Abilities
—> Fear
---
The Horwasp are presently under development, which means they will frequently be receiving enhancements and bugfixes. Because of this, the documentation will also be frequently changing, and may be slightly behind development. This means that at any given time the documentation might not be complete, and could contain errors. In addition, there are probably interactions that aren't yet known.
If any errors are noticed in this document, please inform one of the Planets.nu Editors.
---
Whenever starships with this ability come within 100 light-years of a planet, the colonists and natives become fearful and their happiness begins to drop. The closer the starship gets to a planet, the worse the effect. The impact on happiness will be between -1 and -10 happiness per turn in 10 light-year increments. This effect is not cumulative with multiple sources and does not affect natives on unowned planets.
| Distance (LY) | | Impact | | Distance (LY) | | Impact |
| --- | --- | --- | --- | --- | --- | --- |
| 91-100 | | -1 | | 81-90 | | -2 |
| 71-80 | | -3 | | 61-70 | | -4 |
| 51-60 | | -5 | | 41-50 | | -6 |
| 31-40 | | -7 | | 21-30 | | -8 |
| 11-20 | | -9 | | 1-10 | | -10 |