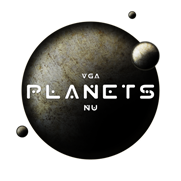 Documentation Copyright Notice
The Editors of the Planets.nu documentation shall retain full authorship rights and privileges to any original documentation they create on this site, including the right of republication.
In addition, the Editors of the Planets.nu documentation grant a non-exclusive, perpetual, royalty-free, world-wide license to Planets.nu, its assignees and its inheritors, to use and modify the documentation they create, in any form in which they may choose to deliver that documentation. This specifically includes the right of Planets.nu to permit any use by its subscribers as limited by the Planets.nu Terms of Use and Privacy Policy , with the specific added limitation that the documentation not be copied to other websites.
In the event that the ownership or control of the Planets.nu website should change, this license may be transferred to the new owners at the discretion the former management without prejudice except as stated herein.
This document is considered to have the force of a verbal agreement and as such may not be altered except by consent of the agreed parties. In lieu of agreement, it is to be considered a statement of intent.