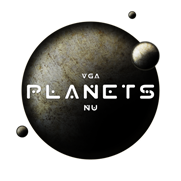 Debris Disks
---
Starmap
—>
Stellar Cartography
—> Debris Disks
---
Debris disks may exist in sectors where Stellar Cartography is active.
A debris disk is is a tightly packed collection of small asteroids, interstellar dust and debris in interstellar space, with a few planetoids (large asteroids). They are normally the result of a Gorbie destroying a planet in a previous war. These debris disks are difficult to navigate with large ships.
Except as described below, Planetoids are treated as Planets.
Debris Disks have the following properties and effects:
Debris disks, and the planetoids within them, do not count as planets, either in the scoreboard, towards the win conditions, or towards the Fight or Fail requirements. They do, however, generate Campaign Resources when colonized or conquered and they show up in the Planet List.
Starships with a hull mass of 200 KT or more will be destroyed when they enter a debris field. Neutronic Fuel Carriers, Large Deep Space Freighters, Super Transport Freighters and Chameleon Class Freighters (Campaign hull) will also be destroyed when they enter a debris field, because freighter hulls aren't designed to withstand meteor impacts. Smaller ships are able to navigate the debris disk without problem, as they are maneuverable enough to dodge. The only exception to this rule is for the Evil Empire, who have greater experience flying inside the debris disk. They risk hitting debris, which is the equivalent of a mine hit. The faster the ship is traveling, the more likely it is to hit debris.
Minefields can not overlap a debris disk or be laid from inside one. A minefield which is laid over a debris disk will automatically be reduced in size so that it no longer overlaps. Any additional mines will be lost (destroyed by impacts with debris). The size of the debris disk will not change.
Planetoids inside debris disks are 20 times more likely to experience a small meteor shower and are likely to have very dense mineral concentrations. They are very unlikely to have native life.
Planetoids can not sustain any colonists unless they have supplies to eat or a space station (see Overpopulation ). Two notable exceptions for games created before December 2021 are:

Planetoids above 80°W can sustain colonies owned by the Fury, Robots, Rebels, or Colonies. The maximum clans allowed is 60 prior to building a mining station
Planetoids below 20°W can sustain colonies owned by the Rebels. The maximum clans allowed is 90,000 regardless of a mining station

Effective some time in December 2021 (Nu Year 132), Planetoids ceased to have temperature. This is reflected in games created after that unknown date. Running games were not impacted by this change.
Planetoids do not have warp wells.
Specialized Starbases (Mining Stations) may be built at planetoids to assist in mining the planetoids and to support larger colonist populations there. These space stations have a maximum of 50 defense posts and 20 fighters. Planetoids which have a space station can sustain a population up to 500 clans without loss and will double the mining rate on the planetoid. These space stations can not build starships and have no tech levels. Mining stations cost: 70 Duranium, 242 Tritanium, 160 Molybdenum and 480 MegaCredits.
The Mining Stations built around Planetoids are shown on the Scoreboard as starbases. Because of this, it is possible for a player to be shown to have more starbases then planets.
The Rebel Alliance has a ship, The Falcon Class Escort, which can hide inside a debris disk. When it ends its movement inside a debris disk, this ship is essentially invisible to any scans from ships, planets, or planetoids that are 1 light-year or more away. In the hands of other Races, the Falcon is still able to hide in this manner.
Starships cannot hyperjump out of a debris disk, but they can hyperjump in.
Starships cannot be towed into or through a debris disk. The tow lock is disrupted as the towing starship enters the field stopping both starships.
It is possible to get a tow-lock on a starship while within a Debris Disk, for the purposes of a tow-capture.
Opening a Firecloud Chunnel (start or end) from inside of a debris disk will cause all starships in the Chunnel to be destroyed by debris sucked into the wormhole.