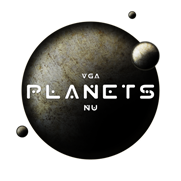 Starbases
---
Planets
—> Starbases
---
Starbases are permanent constructed installations in orbit of a planet that can significantly increase that planet's defenses. They usually have the capability to build and maintain starships. Starbases can also instantly build torpedoes (for use on starships) and fighters (either for their own defense or to use on starships).
In addition to the checkbox controls standard to the other interface screens, starbases have these:
On the Starmap, a planet with a starbase is represented by a square, while a planet without a starbase is represented by a circle.
Special starbases need to be built in Star Clusters; more information on them can be found here, in the main page on Star Clusters.
Mining Stations may be built inside Debris Disks. These are a limited type of starbase; details can be found here, on the main Debris Disks page.