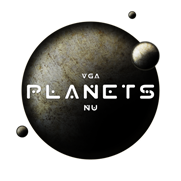 Star Cluster Radiation Immunity
---
Dashboard
—>
Advantages
—> Star Cluster Radiation Immunity
---
Due to the fact that members of the Robotic Imperium are inorganic, they are inherently immune to the radiation from Star Clusters. Radiation from beam weapons, being of a different type, will still kill them.
This advantage is enabled by default, and can not be disabled. No special Mission or Friendly Code is required to trigger this advantage.
This advantage is worth 10 advantage points and is only available to The Robotic Imperium.