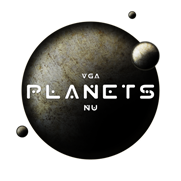 Planets
---
Intro
—
Races
—
Dashboard
—
Starmap
—
Planets
—
Starships
—
General
—
Guides
---
Planets provide a place for your colonist population to grow, and for planetary structures to be built. They can house native races , and they can build starbases.
The planet display on the Starmap shows the number of mineral mines , factories and defense posts on this planet. Under Resources is the amount of neutronium, tritanium, duranium, and molybdenum that have been mined and is ready for use, as well as the amounts of minerals remaining underground. Also shown is the amount of supplies beamed down from starships or produced by the planet's factories , as well as the amount of money (in MegaCredits) available on the surface.
The native race, population, and happiness, colonist population and happiness, native government system and tax rates are all shown below in the Colony section.
For additional information on specific subjects, please see the following:
The complete list of possible planet names can be found here.