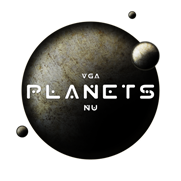 Minerals
---
Planets
—>
Planetary Structure Building
—>
Mines
—> Minerals
---
Minerals are the fundamental building materials of every starship and starbase in the game, along with the fuel used to move them. They can be found naturally on the surface of planets, and they can be extracted from a planet's core via the construction of Mineral Mines. Minerals can also be produced by Alchemy Ships.
The minerals used in Planets.nu are as follows:
Neutronium is extremely dense and is used solely as fuel for starships.
Duranium is extremely tough and is largely used in the construction of armor plating and structural supports.
Tritanium is flexible and durable and is employed in more delicate and precise structures such as precision starship parts.
Molybdenum is essential in the construction of high-tech and high-energy devices.
Almost every hull or part uses some of each of the last three minerals in various amounts.