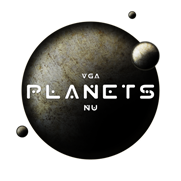 Advanced Cloaking
---
Starships
—>
Abilities
—> Advanced Cloak
---
There are two starships in the game that come equipped with advanced cloaking devices. These are the Resolute Class Battlecruiser and the Dark Wing Class Battleship, both constructed by the Empire of the Birds. In addition, the Birds can research the Deth Specula Heavy Frigate and the Red Wind Storm-Carrier for use in a Campaign game, both of which have advanced cloaking, with the latter also being available for research by the Privateers.
Advanced cloaking devices differ from standard cloaking devices in a few respects.
The cloak device consumes no fuel while the starship is cloaked.
While they are cloaked, they are protected from the damage, drag and movement effects of ion storms.
When they emerge from a wormhole , they will be cloaked.
While the cloak is active, crew and colonist losses in a radiation zone near a star cluster are reduced to 1/3 the normal amount instead of 1/2 for normal cloaking.
It is important to remember that advanced cloaking provides no protection from either the Loki or from Glory Devices.
See also: Out of Fuel.