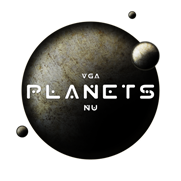 Cloak and Intercept
---
Dashboard
—>
Advantages
—> Cloak and Intercept
---
For games created after January 1, 2021 (Nu year 121), this ability only effects starships that can be built by The Empire of the Birds.
The Birdman Cloak and Intercept advantage allows any of your starships with cloaking devices to remain cloaked while performing an intercept. If your starship sets a Primary Enemy to match your intercept target, it will engage that one starship in combat before the regular combat phase. If it survives that combat undamaged, it will immediately recloak so it will not enter combat with any other ships or planets.
To trigger this advantage, the Mission should be set to Cloak and Intercept.
This advantage is worth 40 advantage points and is only available to The Empire of the Birds in Campaign games, and Standard games started after about 21-AUG-2017. It may be enabled in Custom games, if desired.
See also: Out of Fuel.