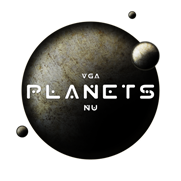 Planets.nu Player Map
---
Contributions
—> Planets.nu Player Map
---
Planets.nu player Spacesquad , the winner of the Scorpius War , the second Emperor and the designer of the Sapphire Class Space Ship, has created a map to allow the Planets.nu players to see where other Planets.nu players live, and to inform other players as to their approximate locations.
For those players who are interested, please feel free to mark your home or work location on the map. An approximate location (the nearest airport or train station) is close enough. For those with no close airport or train station, something within a few miles is adequate. As with any information you make available to the public, it is suggested that you not use your exact address.
The Google Map can be found at https://www.google.com/maps/d/edit?mid=zvdGjTeKc3xM.kG70uUFGy3gM&usp=sharing. To place a marker for your location, it will be necessary to be logged in on Google.com.
This was first announced at Planets Magazine as http://www.planetsmagazine.com/newsandstories/news/the-map/.