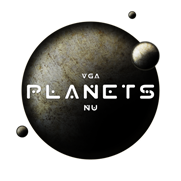 Quantum Torpedoes
---
Dashboard
—>
Advantages
—> Quantum Torpedoes
---
The Federation technicians have developed a new torpedo that they call a Quantum Torpedo. Compared to the Mark-8 Torpedo, this new torpedo has increased range and power. Due to the nature of the explosive charge, one Quantum Torpedo creates the same number of mines as one Mark-8 Torpedo, and these torpedoes can't be created by scooping minefields.
When this advantage is active in a game, the Federation can build and refit starships with Quantum Torpedoes. The Federation can also build Quantum Torpedoes at starbases with a torpedo tech level of 10. Any race can build Quantum Torpedoes on starships equiped with Quantum Torpedo launchers.
This advantage is disabled by default, and can be researched with Campaign Resources. No special Mission or Friendly Code is required to trigger this advantage.
This advantage is worth 30 advantage points and is only available to The Solar Federation.