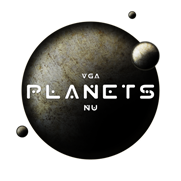 Gambling Ship
---
Starships
—>
Abilities
—> Gambling Ship
---
This ability is exclusive to the Lady Royale Class Cruiser. The Lady Royale is a pleasure starship. While there are clans on board this starship it will generate one MegaCredit per clan each turn from gambling earnings.
Because gambling income is collected early in the Host Order -- not merely before taxation but even before starbase missions -- it is possible to station a Lady Royale at a starbase which has Unload All Freighters set as its primary order. This will return the clans to the planet in time for them to go to work, pay their rent, raise their families, and collect their paychecks. In game terms, the main effect this will have is that they will contribute to planetary population growth, and to planetary taxes, all the while generating additional direct revenue in the gambling starship (which will also be automatically unloaded).
See also the Friendly Codes BTM and BDM.
See also: Out of Fuel.